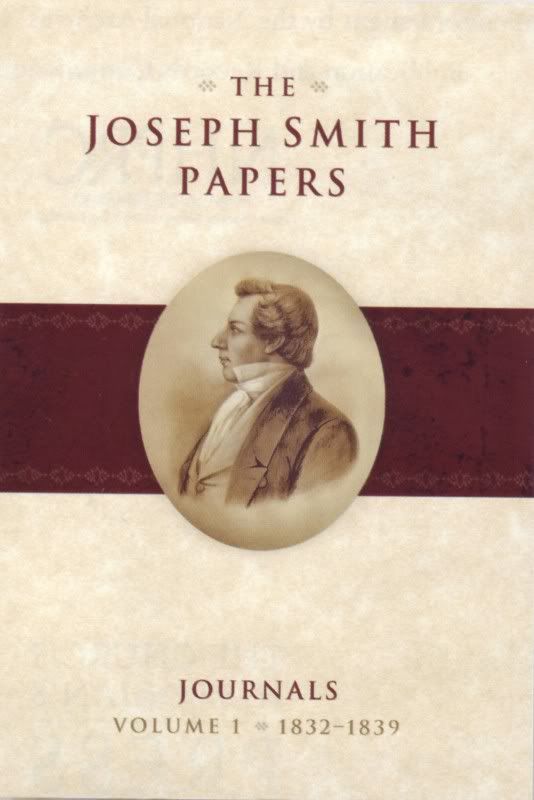 Jot it down in your diaries, folks: the day is finally here. Today, the first volume of the Joseph Smith Papers – Vol. 1 of the Journals series, covering 1832-1839, edited by Ronald K. Esplin, Dean C. Jessee, & Richard L. Bushman – is off the press, out of the bindery, and being trucked to the editorial team even as you read this.
This volume is not only the long-anticipated firstfruits of the Joseph Smith series, but is also the maiden volume of the new The Church Historian's Press. Long life to the press, and best wishes for many future projects!
As you probably know, the Joseph Smith Papers project is a comprehensive collection of the papers created by Joseph Smith, and those papers created by others which constitute the primary record of his life, edited according to the highest scholarly and documentary editing standards. These volumes are intended to be not chiefly a biography of Joseph Smith, and not chiefly a history of the Church, but rather an authoritative publication of the raw materials of history which historians and scholars will use to inform their own biographies, histories, and analyses. To serve that end, extraordinary efforts have been made to present letter-perfect transcriptions with scholarly research into authorship, handwriting, provenance, and other details critical to the authentic use of the documents in secondary studies.
It is anticipated that the project will eventually result in approximately 30 volumes, divided into six series:
The Journals Series
The Documents Series
The Revelations and Translations Series
The History Series
The Legal and Business Series
The Administrative Series
Congratulations to all those who have worked toward this publication (and fie on all those – including me, I'm ashamed to admit – who ever said we'd believe it when we saw it).
Vol. 1 will be delivered within the next few days to the usual outlets, including: DeseretBook.com, the source advertised by the project itself; BenchmarkBooks.com*, which is offering a 20% discount on Vol. 1 and a 10% discount on later volumes to those who subscribe to the series through Benchmark; and Amazon.com, with its typical discount.
*Not to imply that I have a favorite seller of Mormon books (**cough** Benchmark **cough**), but since Benchmark's website doesn't have a shopping cart at the moment, you might find this contact information useful:
Benchmark Books 
3269 So. Main Street, Suite 250 
Salt Lake City, UT 84115 
801-486-3111 
801-486-3452 (fax) 
800-486-3112 (orders only) 
Hours: Mon. - Fri., 10-6; Sat., 10-5 
Visa, MasterCard, and Discover or check or money order 
Continue reading at the original source →