Adapted from Leaves from My Journal, by Wilford Woodruff; artwork by Douglas Johnson. (Links to previous installments are found at the very bottom of this post.)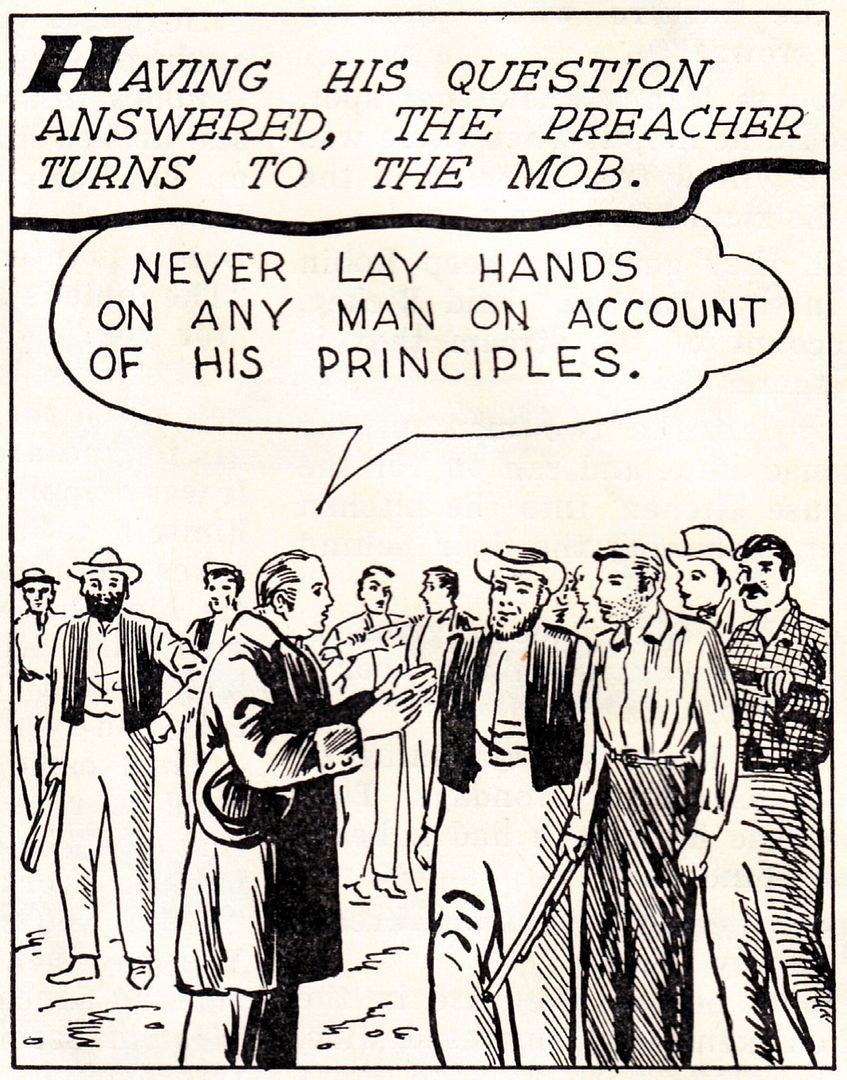 .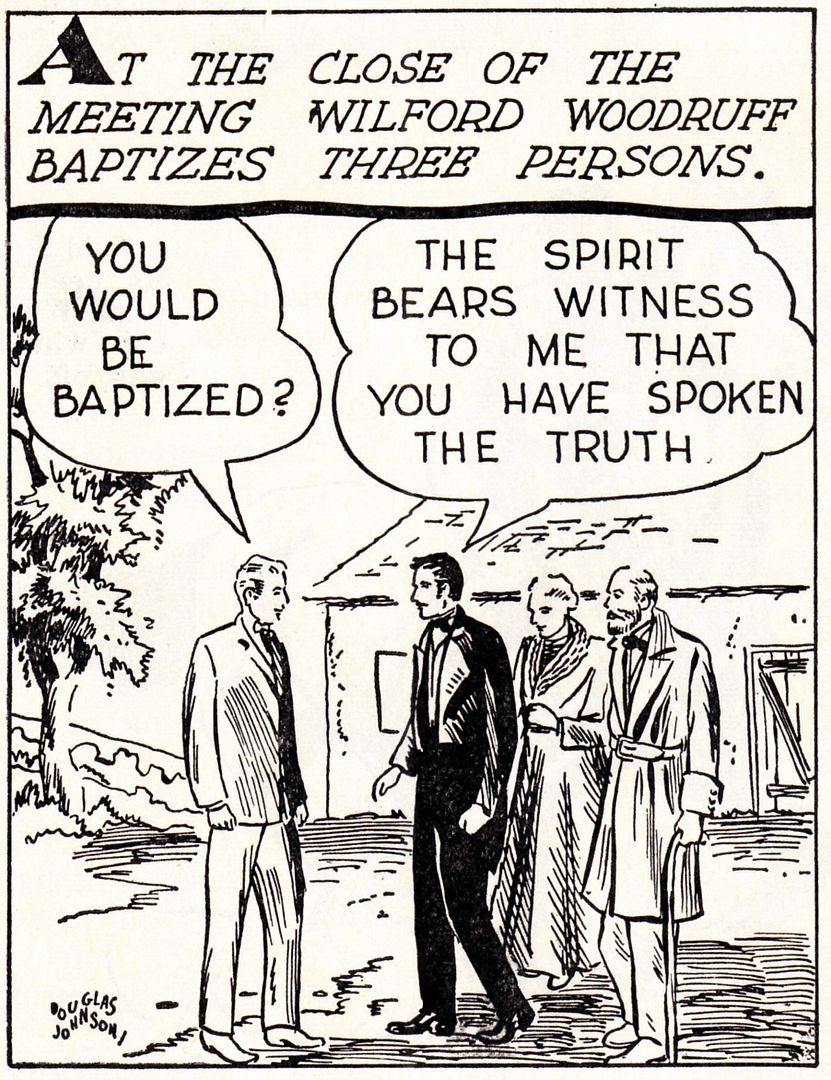 .
.
.
.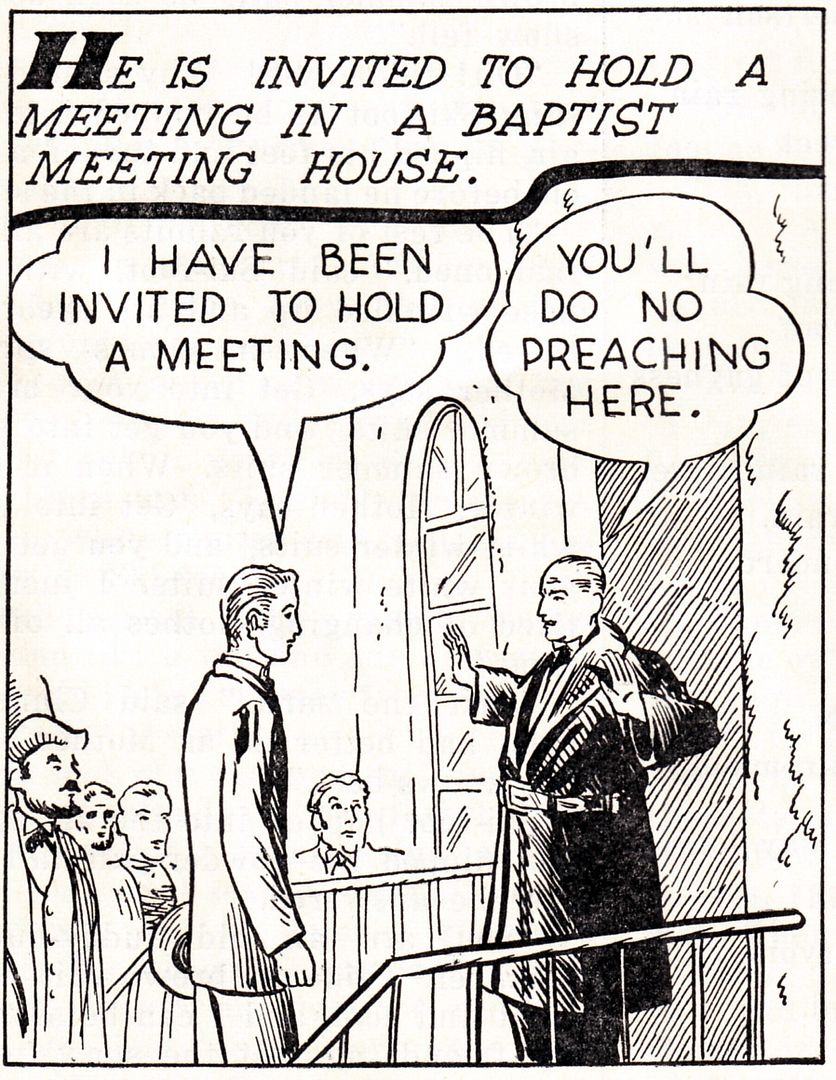 .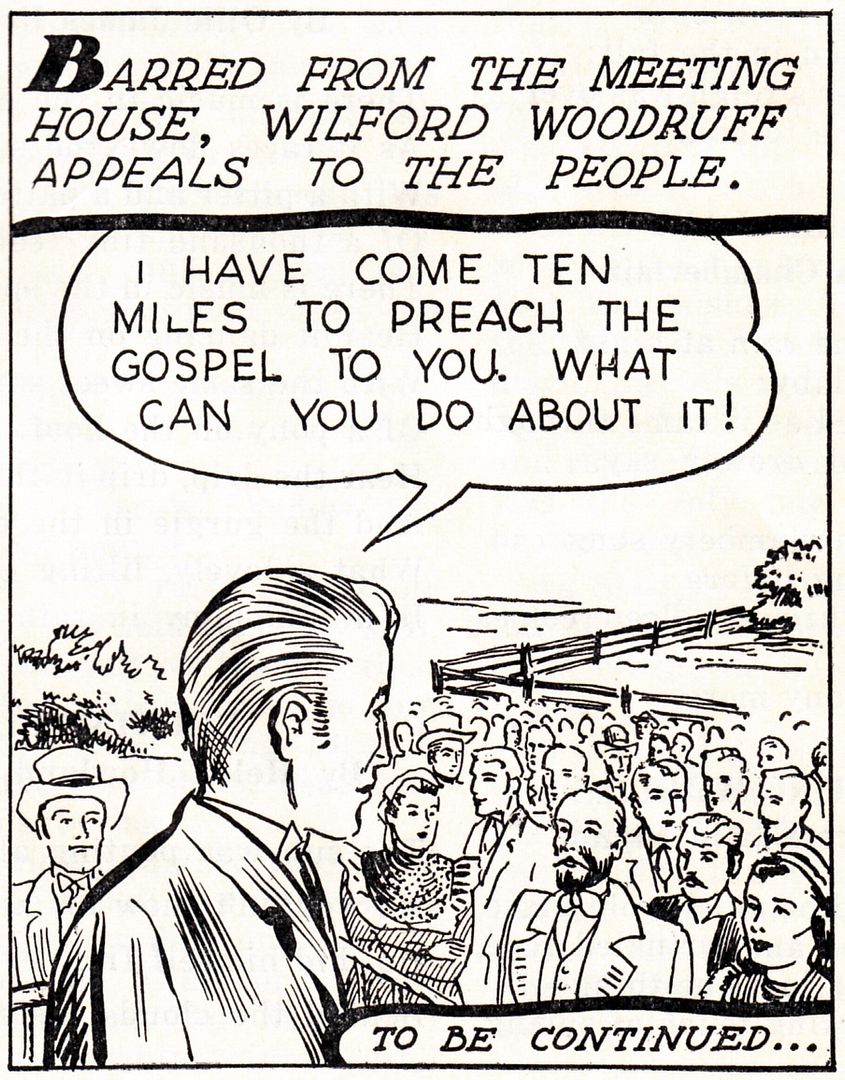 to be continued …
Text from Leaves from My Journal
… On the following day I preached at the house of Brother Henry Thomas, when a mob of about fifty persons collected, headed by a Baptist preacher, who, after asking one question, advised the mob to not lay hands on any man on account of his principles. The advice was good and well taken. At the close of the meting I baptized three persons, one seventy-eight years old.
This brings the year 1835 to a close – the first year of my mission, during which time I had traveled three thousand two hundred and forty-eight miles, held on hundred and seventy meetings, baptized forty-three persons – three of whom were Campbellite preachers – assisted Elder Parrish to baptize twenty more, confirmed thirty-five, organized three branches, ordained two Teachers and one Deacon, procured thirty subscribers for the Messenger and Advocate,one hundred and seventy-three signers to the petition to the governor of Missouri for redress of wrongs done the Saints in Jackson County, had three mobs rise against me – but was not harmed, wrote eighteen letters, received ten, and finally closed the labors of the year 1835 by eating johnny-cake, butter and honey at Brother A.O. Smoot's.
I spent the fore part of January, 1836 (the weather being very cold), at the house of A.O. Smoot, in Kentucky,. studying Kirkham's English Grammar. I continued to travel and preach in Kentucky and Tennessee and baptized all that would believe my testimony.
On the 26th of February we held a conference at the house of Brother Lewis Clapp (father of B.L. Clapp). There were represented one hundred and three members in that mission. I ordained A.O. Smoot and Benjamin Boyston, Elders, and Daniel Thomas and Benjamin L. Clapp, Priests. I also ordained one Teacher and two Deacons.
After conference I took Brothers Smoot and Clapp with me to preach. The former traveled with me constantly till the 21st of April, when we had the privilege of meeting with elder David W. Patten, who had come direct from Kirtland, and who had been ordained one of the Twelve Apostles. It was a happy meeting. He gave us an account of the endowments at Kirtland, the glorious blessings received, the ministration of angels, the organization of the Twelve Apostles and Seventies, and informed me that I was appointed a member of the second quorum of Seventies. All of this was glorious news to me, and caused my heart to rejoice.
On the 2th of May we were joined by Elder Warren Parrish, direct from Kirtland, We had a happy time together. On the 28th, we held a conference at Brother Seth Utley's, where were represented all the branches of the Church in the South. I was ordained on the 31st of May a member of the second quorum of Seventies under the hands of David W. Patten and Warren Parrish. …
I was invited to hold a meeting at a Baptist meetinghouse, on the 27th of June. On my arrival I met a large congregation; but, on commencing meeting, parson Browning ordered the meeting to be closed. I told the people I had come ten miles to preach the gospel to them …
Links to previous installments:
Wilford Woodruff's First Mission (Graphic History) part 1, part 2, part 3, part 4, part 5, part 6, part 7, part 8, part 9, part 10, part 11, part 12, part 13, part 14, part 15
Continue reading at the original source →