So you've been called as a member of the ward or stake Social Committee (the forerunner of today's Activities Committee). You want to hold a dance, perhaps in honor of those fine young men who have just been called into the army. How late should you permit the dance to run? Should men be encouraged to attend stag? Can we dance to that outrageous ragtime music?
Luckily for you, the Church Social Committee has laid it all out for you, in this handy dandy guide, complete with photographic illustrations of the proper dance positions, showing particularly the correct placement of gentlemen's and ladies' arms, and the proper distance between dancers. (If you plan on measuring that distance using a Book of Mormon, better bring the extra-large-print edition … or maybe the Braille edition. Anything slimmer is going to fall right out of the gap prescribed in these pictures.) (Your models are Miss Edith Barlow, head of the Department of Dancing, Deseret Gymnasium, and Mr. Fred A. Jackson, President of the Utah Dancing Masters' Association.)
INSTRUCTIONS ON DANCING AND BALL ROOM MANAGEMENT.
1. The Hall. The committee shall see that the hall is clean, comfortable, well lighted, and ventilated. Where possible, separate cloak rooms for ladies and gentlemen should be provided.
2. Time of Opening and Closing. All parties should begin not later than 8:30 and close not later than 11:30 p.m. The frequent practice of playing the "Home, Sweet Home" medley [to signal closing time] should be dispensed with.
3. Prayers. All parties should be opened and closed by brief, appropriate prayers.
4. Director of the Dance. A competent man, who is tactful, and has influence among the young people, shall be selected by the committee as director of the dance; if not already a member of the [social work] committee, he shall be made a member. During the dance the director shall have supervision of the hall, orchestra, and program, and shall be the constituted judge as to what is proper and improper in dancing and deportment. When deemed advisable, he may be compensated for his service, such compensation to be charged as part of the expense of the dance. Where conditions require, the director of the dance should have such assistants as may be necessary. It is suggested that these assistants by young men congenial with the young people, and familiar with dances and dancing.
5. Duties of Director. Among the duties of the director are these:
(a) To consult with the musicians prior to the evening of the dance upon the fitness of the music for the dances determined upon, and arrange that only proper music shall be played. High class music is conducive to good deportment and refined dancing. Great care should be exercised in the choice of music for the dance, and the orchestra should not be permitted to play objectionable selections.

(b) To be on hand promptly in order that the dance may begin at the appointed time; also to see that the musicians and reception committee are present on time.

(c) To follow the program, preserving the identity of the dance. Dances should be announced by placard, program or otherwise. Allowance should be made for some variety in methods of dancing, provided the different interpretations are similar enough not to be objectionable.

(d) To insist upon correct position.

(e) To exclude, tactfully but courageously, undesirable persons, and to see that the use of tobacco, liquor, and bad language is not permitted in or about the building.

(f) To see that all present receive proper introductions. Great care should be exercised in introducing young people to strangers. No young man or young woman should be introduced unless the person making the introduction can stand sponsor for his or her worthiness. Much harm has resulted from indiscriminate introductions.
6. Patrons and Chaperones. Patrons and chaperones lend "tone" and an atmosphere of conservation much to be desired, and also add an element of real safety. Young people should be instructed that chaperonage is rather for protection than for restraint.
Social committees should make it their special duty to see that bishops and other leading members of the Priesthood, as well as parents, receive personal invitations to, and are encouraged to attend the dances of the young people. Arrangements should be made to insure the attendance at each dance of at least three parent couples, free of charge. Frequent changes in the personnel of patrons are desirable. Attention to these details will solve many of the problems connected with social life.
7. Children Under Age. Boys and girls under fourteen years of age, unaccompanied by parents, should be discouraged from attending evening parties.
8. Escorts. Young ladies may attend without gentlemen escorts, if properly chaperoned, but should not accept company home other than that with which they came.
9. Partners. Young men should bring partners, and their coming without should be strongly discouraged if not forbidden.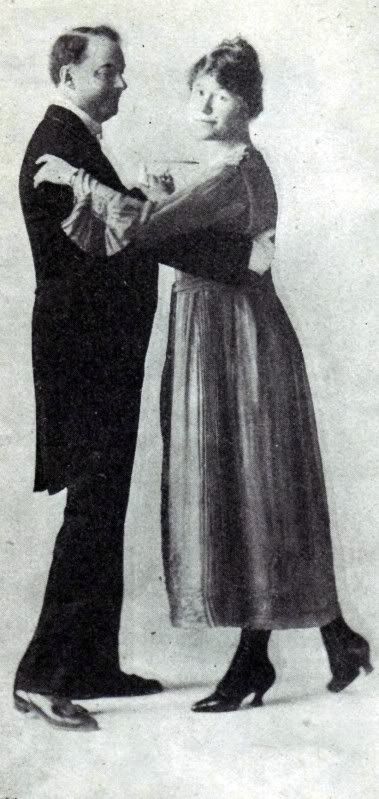 10. Position. Dancers should take such free and open position as will permit them to execute the dance gracefully, presenting a pleasing appearance. Most of the recent criticism of dancing is occasioned by the improper positions assumed in the modern dances. Any position which encroaches in the slightest degree upon modesty and refinement should not be permitted. The accompanying cuts illustrate good position.
11. Square Dances. Square and line dances given variety and develop the spirit of sociability. Many have the idea that these dances are to be engaged in with much noise and stamping and at a whirlwind rate. This is not so. As much grace and dignity are required ins quare as in round dances.
12. No Special Dances Approved. The Church authorities do not express approval of any particular dance. They expect all dances to be characterized by modesty and refinement.
13. Special Attention. In putting the foregoing instructions into effect, special emphasis should be laid upon the following:
(a) Organization of committees.
(b) Appointment of director of the dance.
(c) Chaperonage.
(d) Proper position.
Contiguous stakes may unite in formulating plans for carrying out these regulations and for perfecting other details to suit local conditions.
***
The regulations also cover dress – you didn't think you could throw a church dance without a dress code, did you? Those regulations will be addressed in a later post.
Continue reading at the original source →