One afternoon I now know to have been September 1, 1967, my mother gave me a loaf of bread she had baked that morning and asked me to take it through the block to the Kangas home. Brother and Sister Kangas might not be there, she said, but I was to wait until they did come home.
She was right; there was no car in the carport and no answer to the doorbell. So I sat on the retaining wall and kicked my heels for a little while, until a car drove in and Brother and Sister Kangas got out. Sister Kangas was carrying a folded flag. I gave her my bread with a message from my mother, and she thanked me, and I skipped on home.
Sometime later, I realized that Brother and Sister Kangas had been returning from the funeral of their son, Clifford F.D. Kangas, that the flag had been the one draped over his casket, and that my mother had sent the bread because that's what neighbors did.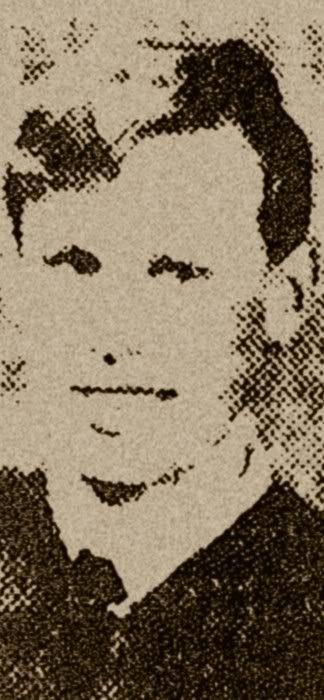 I don't know that I ever met "Dee" Kangas, as his father called him. I probably did, but he was 12 years older than me and probably didn't register on my child's radar. Certainly his picture was unfamiliar when I looked up his obituary last week. But although I did not know him, Clifford Kangas has always been on the fringes of my memory, my personal connection to the Vietnam War, "my" soldier, because of the memory of his mother, her flag, and my mother's bread. When a friend visited the Wall in Washington, D.C., I asked him to bring me a rubbing of Clifford's name.
Clifford was born March 30, 1947, and blessed by his father a month later. He was baptized on schedule and ordained to the various offices in the Aaronic Priesthood, either by his father or by Bishop Nance, the earliest bishop I can remember (he was the father of my friend Michelle). Beyond that, all I know of Clifford occurred during the last few months of his life, and his death. I do not know whether he played sports, or was in the band, or liked to read, or was a Cub Scout. I'm hoping to find a high school yearbook that will tell me something about him, but mostly I'm hoping that some family member will eventually stumble across this page and leave a personal comment.
I know that in 1967, young men were being drafted for wartime service, and that there was a limit to how many young men could be called as missionaries from each ward. In 1967, our ward, the Crescent 2nd in Mt. Jordan Stake, had four missionaries and 18 servicemen on active duty. Would Clifford have been a missionary had his number not come up in the draft lottery?
His father wrote an article for the March 1967 issue of The Creskopion, the ward newspaper edited by my mother:
Clifford (Dee) Kangas, son of Cliff and Velma Kangas, has arrived in Bien Hoa, Viet Nam, March 6. He had his training first at Ft. Lewis, Wash. then transferred for Advanced Individual Training (A.I.T.) to Ft. Jackson, Columbia, So. Car. He had a Christmas furlough and returned for his finals on Jan. 1, 1967. His unit left Feb. 5 for their furloughs en route to Viet Nam. Dee was held back two weeks to testify as a witness at a court martial action. His last furlough ended March 1, and he then flew to Oakland, then to Travis Air Force Base, then to Bien Hoa. Some of you friends might have missed seeing him.

Dee is in a new unit, just organized last December. It is a reconnaissance foot soldier searching patrol, probably in the Central Highlands or the Cambodian border.

He met one returned missionary in his unit, who was transferred elsewhere, an elder Ballard. Now he would enjoy letters from his ward. He is terribly lonely and homesick. His address is listed with the other servicemen in this issue of the paper. S.A.M. (Special Airmail) on the envelope facilitates immediate priority.
Although his father doesn't mention it, Clifford received his patriarchal blessing and was ordained to the Melchizedek Priesthood in March. That tells me he was going as well prepared as it was possible for a young man to be.
On August 22, Clifford was wounded by small arms fire, and was flown by helicopter to the hospital ship USS Sanctuary, where he died of his wounds. A week later, he was buried in the Salt Lake City Cemetery. His parents drove home, to be greeted by a little girl who had no idea where they had been or what they were feeling.
Nobody should be forgotten – and I know that through the grace of Christ no one will be forgotten. Everybody – every Latter-day Saint – has a story. I wish I knew more of the story of Clifford F.D. Kangas.
Continue reading at the original source →