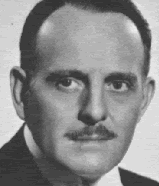 "Mirror, mirror on the wall …" That fairy tale incantation in Disney's 1937 feature "Snow White and the Seven Dwarfs" summoned magical responses delivered in the mirror's memorable baritone voice, a voice not identified by the film's credits.
"Looks like we'll have to send someone down –– a lot of people are asking for help for a man named George Bailey." Another voice from an unseen speaker, this one the angel in Frank Capra's 1946 "It's a Wonderful Life," instructing guardian angel Clarence on his assignment to save the life of the ordinary man who had always put everyone else's needs before his own.
The man behind both the mirror and the angel was Moroni Olsen, a native of Utah and a faithful Latter-day Saint.
Born in Ogden in 1889, Olsen graduated from Weber Stake Academy, now Weber State University. Although he acted in church theatricals, he never appeared in a high school play – Weber Academy had no drama coach. After his graduation, Olsen joined the Weber Alumni Dramatic Association and threw his support behind Weber's new English teacher, a Miss Cleghorn, and her efforts to bring drama to Weber.
Olsen went on to the University of Utah where he studied drama and elocution under Maud May Babcock, the first woman on the U's faculty, founder of its speech and physical education department, and legendary developer of its theater program. The voice training Olsen received under Babcock equipped him for the Broadway stage and for Hollywood. Olsen never forgot either of his schools – after establishing a solid position for himself at the national dramatic level, he returned to Utah time and time again to perform in benefits for Weber and the University of Utah.
In September 1923, following study and minor performances in the east – and a stint in the Navy selling war bonds during World War I – Olsen organized The Moroni Olsen Players, drawing from the surprisingly large pool of semi-professional acting talent of Ogden. Olsen directed and coached his players, handled scenery, staging, and choreography, and attended to all the other details of a fledgling repertory company.
The Players put on at least five productions at Ogden's Orpheum Theater during their first season, and by December they hit the road, playing a circuit that reached from Salt Lake City to Washington State. The Seattle Daily Times praised their performance of George Bernard Shaw's Candida as "admirable," noting its reception "with unmistakable enthusiasm by a large audience." The Tacoma News-Tribune called their production "overwhelming in its success … there were many curtain calls and much spontaneous applause." Olsen continued his work with his Players for 8 seasons.
Hollywood called in 1934, and Olsen moved to Los Angeles. His first movie role was Porthos in "The Three Musketeers," followed by Buffalo Bill in Barbara Stanwyck's "Annie Oakley." Role after role followed, keeping Olsen busy throughout the 1930s and 1940s. His role as Congressman Stone in 1949's "Command Decision" brought him a nomination for best supporting actor Oscar.
For several years, Olsen directed the "Pilgrimage Play," Hollywood's great passion play that predated the arrival of motion pictures. In 1936, the devout Mormon played religious reformer John Knox opposite Helen Hayes in "Mary of Scotland." His reputation as a movie actor no doubt accounted for at least a part of his popularity as a teacher of Bible studies to the young people of the Beverly Hills Ward.
Television discovered Olsen in the early 1950s, and he played a series of heavies, his menacing stare and deep voice bringing a convincing element of danger to his roles. On the lighter side, he appeared in one episode of "I Love Lucy" as a judge trying to understand the explanations of a scatter-brained Lucy Ricardo.
Olsen's last visit to Utah occurred in July 1954, when he spent several days in Ogden updating staging for the pioneer musical "All Faces West," in which Igor Gorin, world renowned operatic baritone, reprised his role of Brigham Young. He also narrated a pageant in the Salt Lake Tabernacle, featuring the Mormon Tabernacle Choir and San Francisco opera soloist Carl Palangi. Olsen died just before Thanksgiving that year, in Hollywood. Olsen, who had never married, was survived only by a nephew, Edward Olsen of Los Angeles, who brought his body home to Ogden for burial.
Continue reading at the original source →