-->
From time to time, you may have noticed that temples occasionally have octagons worked into the architectural elements.
You may have wondered what those mean.
A few years ago, I read a book about temple architectural elements that said that octagons with their eight sides symbolized the 8
th
day of creation and also progression toward perfection.
I think Hansen skillfully unpacked the reasoning for how it communicates progression toward perfection (so I'll let you buy the book and learn about that and all the other fabulous goodies that come in it), but I want to focus a little more on that idea of the 8
th
day of creation because this is one that foreign to us.
This one took me a while to grasp.
Being baptized at age eight, the year of accountability, is familiar to us, but eight days in creation is strange.
Creation was done in six days, God rested on the 7
th
, so what need for an 8
th
day?
Consider that we all need to be born again into the kingdom of God.
Wouldn't that constitute an act of creation—the spiritual creation of a new creature?
It would be a further refinement and continuation of our creation that would be in line with the change and development that happens in the previous 7 days.
Thus, the 8
th
day of creation is about spiritual rebirth and refinement, and so you will find octagons in the temple in places that should remind of spiritual rebirth, like around the temple baptismal font.
It may be the font itself.
It may be in the ceiling shape.
It may be in the stonework around the font.
You may find it other places as well, so you'll know that is an opportunity to think about how that place is associated with spiritual rebirth and creation.
(Also, don't forget that it can be associated with progression toward perfection as well.)
http://www.religiousforums.com/forum/latter-day-saints-dir/32153-what-lds-temple-looks-like-inside.html
Notice the ceiling (http://thetrumpetstone.blogspot.com/2011/09/lds-temple-glass-trees.html)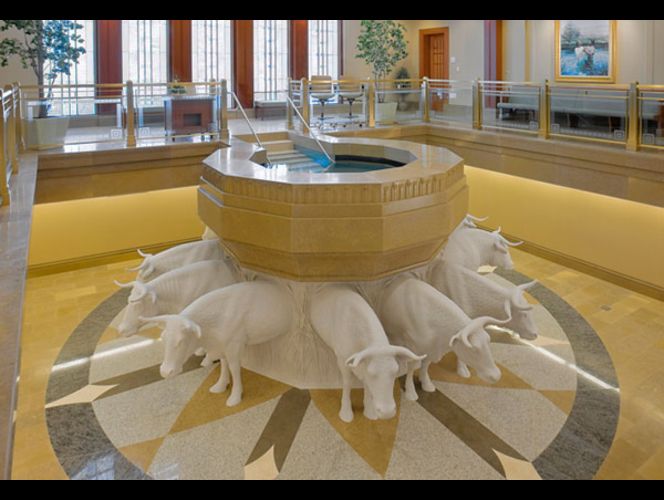 http://www.ksl.com/index.php?sid=5273003&nid=460&page=2
http://www.pinterest.com/garrettdad2/lds-temples/
This one is from the Boise, Idaho temple. Interesting that the octagon is associated with garden imagery. http://www.pinterest.com/christmasfamily/temples/
Continue reading at the original source →