Stephen Andrew Childers, age 20, might have liked to have been at home in Alton, Illinois, when his little brother James turned 12 late in 1960. But he couldn't be there, so he wrote a letter:
Dear Jim. Happy birthday! How does it feel to be twelve? if I were home, it would feel painful in a certain spot, understand?

By the time you get this you will be twelve. This is an important time in your life because you will be able to hold the priesthood now.

I wish I could be there when you are ordained. You must always remember that holding the priesthood is a great honor and privilege. You must always be true to it even if you see others who aren't honoring theirs. The office of deacon in the Aaronic Priesthood gives you more power and authority in God's kingdom than do the offices of President of the United States, Prime Minister of Great Britain, and leaders of all the other countries combined. It may be hard to realize, but it does.

Don't think the seriousness of the priesthood will make holding it unpleasant, for you will find that the priesthood will give you great opportunities for service. Love of God and service to him, combined with love and service to people is the best road to happiness. You have a wonderful opportunity unfolding before you, make the most of it. Honor and magnify your priesthood. If you are in doubt whether something is right or wrong, sk yourself, "Would Jesus do it?" If he wouldn't, don't you, and you won't be wrong.

I hope you have a Happy Birthday. Don't bother your sister [Margaret] too much. Write me and tell me what you are doing.

Your brother, Steve.
Stephen was in a position to have thought quite a bit about power and authority, about presidents and prime ministers, about service and opportunities: he was in his first year as a cadet in the U.S. Military Academy at West Point. All reports are that he was a fine cadet. He graduated in 1963 in the solid middle of his class academically, and he was an award-winning athlete. A former classmate, Brig. Gen. Ramon M. Ong (Ret.), later recalled,
We entered West Point together and joined the Army Swimming Team together. He was a great athlete and set many Academy records. I was no match for him and so became the Team Manager who posted his records on the Gymnasium wall.
As for his moral character and religious activity, a local church leader (unfortunately anonymous in my source), wrote,
In the four years he was at West Point we came to know him well. We have never known one of "our boys" who radiated so much good or inspired so much confidence as Steve. Every cadet, and especially every LDS cadet, whose spirit needed bolstering was a better, stronger person for having known Steve. His testimony and faith were contagious and all the more inspiring because they came from a man who was an all-round person.
"June 5, 1963 was our Graduation Day," wrote Ramon Ong,
and also my wedding day and Steve was one of my ushers who "crossed sabers" at the West Point Chapel. That was the last time I saw him because I returned to the Philippines to serve in my Army while Steve served in his. In 1966, we were both sent to Vietnam almost at the same time, but our paths never did cross.
Captain Childers, age 26, did cross paths with the enemy on 19 January 1967 in Bien Dinh Province. As commander of an infantry company, he directed some of his men to attempt the rescue of a group of women and children apparently being held hostage in a cave. When his men fell back, wounded, he entered the cave himself and was killed.
Ramon Ong, again:
I learned about his untimely death only several years later. Goodbye Steve, I know you would have become a great career officer if you had lived longer.

I shall always remember your competitive spirit, your infectious smile, your deep Mormon faith and most of all, your golden head bobbing in and out of the swimming pool, always many, many yards ahead of me.
Marion D. Hanks, now an aged emeritus general authority following service with the Seventy and in other leadership positions, and then deeply involved in service to LDS servicemen, reported that "letter after letter received by Captain Childers' parents from many parts of the world spoke of his unusual love for children and of their great love for him, of his deep religious convictions, wholesome life, and selfless service."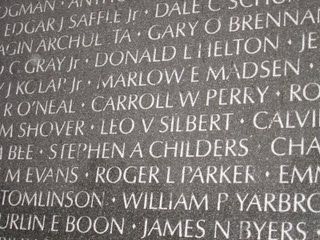 I'm one of those who remains conflicted by the political purposes for which presidents and prime ministers spend our treasure and use up the lives of young men and women, but I have no conflict when it comes to considering the generosity and selflessness of so many of those young men and women who offer themselves to their countries – especially when those young soldiers value their priesthood above all the temporal power at their disposal.
Stephen Andrew Childers would have had his 70th birthday on 14 March of this year. I suspect his family will remember him on that day. I will too.
Continue reading at the original source →