For some of us, February 1985 was little more than a week ago last Tuesday – we remember where we were living, who our favorite teachers were that year, or what job we were working. For one of Keepa's readers, though (who may identify him/herself or not, at the reader's discretion), February 1985 is as exotic as any point from earlier in the 20th century: it was the month s/he was born.
What were we like as a Church that month?
Spencer W. Kimball was president of the Church (he would pass away in November that year), with counselors Marion G. Romney and Gordon B. Hinckley. Ezra Taft Benson was president of the Quorum of the Twelve. Barbara W. Winder was Relief Society general president. Ardath G. Kapp presided over the Young Women, and Dwan J. Young over the Primary. There were about 5.5 million of us that month.
We were still singing from the old hymnbook that had been in use since the 1940s – the "new" hymnbook (our current one) would be published later in the year. The Family History Library had not yet moved into its familiar quarters on West Temple, in Salt Lake City. Senator Jake Garn was in training to become the first Church member to go into space. New stakes were organized: Chandler Arizona Alma, Anaheim California East, San Francisco California West, and San Jose Dos Campos Brazil (the 1513th-1516th stakes of the Church). Members (men and women) who had not been endowed previous to marriage to non-members or inactive members were barred from temple attendance (that would change in February 1986). Stakes still had seventies' quorums, in addition to elders' and high priests' quorums.
Actor Jimmy Stewart ("It's a Wonderful Life," "Mr. Smith Goes to Washington," and so many other classics) visited BYU to be honored by the library there for his gift of his personal papers, including prints of 25 of his movies. Peter Vidmar, LDS gold (2) and silver (1) medalist in gymnastics at the 1984 Olympics, spoke to thousands of students at a fireside at the University of Utah. One of the few LDS members of the U.S. Congress, Sen. Paula Hawkins of Florida, chaired Senate hearings on a proposed limitations on alcohol advertising; the Church submitted a statement supporting such limitations. The Church continued to expand the Missionary Training Center system, opening the eighth such center on the grounds of the London Temple. Fifty-five mostly non-Mormon high school choir members traveled from Royal Oaks, Michigan, to Salt Lake City hoping to meet the Tabernacle Choir; they were thrilled to be invited to perform for the Choir in its February 21 evening rehearsal, after joining with the Choir and other audience members on its February 17 broadcast, singing "Praise God from Whom All Blessings Flow." Miss America Sharlene Wells, LDS, visited President Ronald Reagan at the White House.
The Church News provided glimpses into the lives of individual Mormons that month: Olive May and Alexander E. Mellows, Church members of New Zealand, celebrated their 70th wedding anniversary. Singaporean architect and branch president Tan Su Kion was interviewed concerning his profession, which gave him many illustrations (firm foundations, blueprints for life, quality materials) for use in counseling branch members. Guamian Kenneth Duenas told of the answer to a prayer. Elders' quorum president and Navy Chief Warrant Officer Gary L. Lichty was recognized by President Reagan for having saved the navy nearly $3 million by tracking down equipment that had been mistakenly discarded.
The "Mormon Forum" feature of the Church News solicited suggestions from readers on "how to help others who are having money woes." Among the suggestions were to be understanding of individual situations and don't condemn jobless members as "not trying hard enough" to find work; preserve each other's self respect by offering to barter services if possible ("If you babysit for me, I'll fix your door"); and trust the principle of tithing.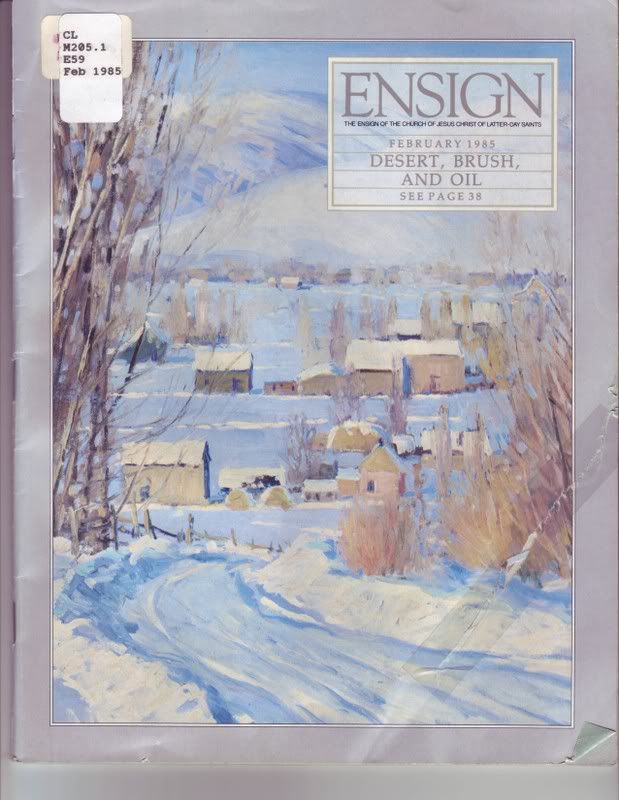 The Ensign published several historically-themed articles: "Joseph Smith – In His Own Words, Part 3," "Preparing Early Revelations for Publication," and an article I suspect Edje is very familiar with, "Odomville: its Citizens Are Family, Its Boundary is Love," about Mormons in East Texas. There were articles on motherhood, on living in part-member families, and on Mormon doctrines concerning the physical body. There were humorous glimpses of Mormon life:
Two old dears were talking about our LDS missionaries, and one of them was heard to say: "Oh, yes, they are very nice, and so polite. But if they read a passage of scripture and don't agree with it, they cross it out with red ink." (from Lancashire, England)

Discussing a verse in the scriptures, our Relief Society Spiritual Living leader asked us what the word "Behold" at the beginning might be saying to us. A sister near the front answered, "Pay attention, you might learn something." A sister on the back row raised her hand, saying, 'I didn't hear what she said," so the instructor kindly repeated, "Pay attention, you might learn something." (from Sunnyvale, California)
News reports from the magazine reported the length of elders' missions was returning to two years, after a brief experiment with 18-month missions, and noted that the Church was reducing the number of welfare projects to produce no more than was needed by the welfare system, and emphasizing "the importance of each member's responsibility for personal and family preparedness," and also that the Indian Placement program was being scaled back, with participation being limited to the oldest students. Although the report insisted that "These changes should not be viewed as a phaseout, but as a refinement of this program," history has shown that this did in fact become a phaseout of the program.
The New Era emphasized early career development for teens, with articles on figuring out one's interests, benefitting from career fairs, obtaining effective letters of recommendation, and finding first jobs. Popular youth author Jack Weyland published a short story, "A Chance to Make Good," and Elder Neal A. Maxwell encouraged teens to recognize that "These Are Your Days," suggesting that the reader "Look before you to a bright clear future. You are in this time and circumstance by Divine appointment. God knows you and he knows what you have the capacity to achieve." A heavily illustrated feature on "Incredible Edible Valentines" showed young bakers how to cut round and square cakes to construct a heart-shaped one, and how to create giant Valentine cookies and cupcake valentines.
Children reading The Friend read a poem about mothers who bake bread, a biography of Joseph Smith's brother Samuel, another of Emmeline B. Wells, and a third of LDS television inventor Philo T. Farnsworth. They read the story of "Choon and the Runaway Elephant," about working elephants in an unspecified locale, and the story of "The Flute Player," a Peruvian boy. There was a paper doll, "Young-Sook from Korea," with both traditional and western outfits to color and cut out. One cartoon showed a dog with a bandaged nose explaining to another dog that "You learn something new everyday. Today I learned about bees!" Another cartoon showed Polly the Parrot telling a little boy with a firecracker in his hand, "Not that kind!"
 … and as if this were not enough to make February 1985 eventful, this was the month that Michelle was born.
Continue reading at the original source →