Evan Stephens — hymnwriter, longtime director of the Mormon Tabernacle Choir, the one man most responsible for the fact that Mormons sing hymns in four-part harmony rather than in unison — has long been one of my most favorite figures from history. He's had one decent biography written about him (Ray L. Bergman, The Children Sang: The Life and Music of Evan Stephens, 1992), although I'm still waiting for the definitive, scholarly biography. (Jeff, soon, right?)
Stephens could have gone just about anywhere and had a successful musical career. He was, for instance, a brilliant teacher who could take classes of 2,000 — that's two thousand — small children and keep them engaged and focused on learning music, turning them into amazing choirs in a matter of weeks. (He was also a canny businessman — charge 50c per child tuition, then fill the Tabernacle with proud mamas and papas at 50c per head to hear them sing, and, well, you could afford a trip to New York City for the opera season.) But instead of going east where he could have fully exploited his talents as a teacher and director, Stephens stayed at home with the goal of teaching his people to make world-class music themselves.
Stephens was an innovator who used whatever tools were at his disposal. As early as 1902, a plan was in the works to transmit choir concerts via long-distance telephone as far as Chicago (there was not yet an unbroken line of telephone wires across the continent so the broadcast could have gone no farther east); I haven't yet found that anything came of this scheme.
In September 1910, with the approval of church leaders and the support of his choir, Stephens brought technicians from the Columbia Phonograph Co. of NYC to capture recordings of the choir and organ in the Tabernacle itself. After a great deal of experimentation, which including asking the ladies to remove their hats so that choir members could crowd closer to each other, the recording began. (Trivia: The first recording of the Mormon Tabernacle Choir consisted of a few bars of "We Thank Thee, O God, for a Prophet," recorded and played back as a test before formal recording began.)
That first recording session captured these pieces:
"We Thank Thee, O God, for a Prophet," two stanzas, 2 minutes.
"Let the Mountains Shout for Joy!" 3 minutes, 5 seconds.
"Soldiers' Chorus" from "Faust," 2 minutes, 25 seconds.
"Hallelujah Chorus," two plates; 2 minutes, and 1 minute, 50 seconds, respectively.
"Inflammatus," 3 minutes, 15 seconds; Mrs. Edward soloist.
"Gypsy Sweetheart," Horace Ensign soloist; 2 minutes 43 seconds.
"Hosannah!" 3 minutes.
"Pilgrim's Chorus" from "Il Lombardi," 2 minutes 52 seconds.
"Light and Truth," 2 minutes 7 seconds.
"America" and "Star Spangled Banner;" 2 minutes 53 seconds.
"O My Father;" 3 minutes 40 seconds.
"Unfold ye Portals," 3 minutes 35 seconds.
The choir — indeed, much of Salt Lake — eagerly followed technical processing of these recordings, and others made over following days, in the laboratories in New York. Not all of the recordings were deemed of sufficient quality to reproduce commercially, but "Hosannah" and Horace Ensign's "Gypsy Sweetheart" were judged to be superior, and copies of many of the numbers were delivered to Salt Lake for sale in October. Unfortunately, I have not been able to locate an extant copy of any of these first recorded performances.
There are a few recordings that are sometimes mistaken for these original 1910 numbers. Despite miscataloguing, however, the record label on the existing old disk, coupled with advertisements from the 1924 Relief Society Magazine and a news account from a 1923 issue of The Juvenile Instructor identify the oldest known remaining recording as dating to 1924. Late in 1923, Stephens traveled to the Victor Talking Machine Co. in Camden, New Jersey, by assignment from the General Church Music Committee of which he was a member. His assignment was to engage a local chorus and produce records for sale to introduce the general public to some of Mormondom's unique hymns.
His trip resulted in three records, each of them containing just one hymn per side. For singers, he engaged the Trinity Quartet (actually, a mixed double quartet) which, judging from the number of times they appear in the Victor catalog from this period, may have been Victor's "house choir" available for hire by anyone when the song, rather than the performers, was what mattered to a producer.
Stephens taught his half-dozen hymns to the Quartet, who performed a capella, with enthusiasm, an up tempo, and technical competence. Listening to these ghosts of voices through more than 80 years' distance, without digital processing to erase the pops and static and to bring the voices to the fore, can be a surprising experience. Understanding the words takes concentration and — for me, at least — the unfamiliar sound suggests the experience non-Mormon listeners may have had in 1924 when they heard Mormon hymns for the first time.
Let the Mountains Shout for Joy
What say ye, o iPod generation?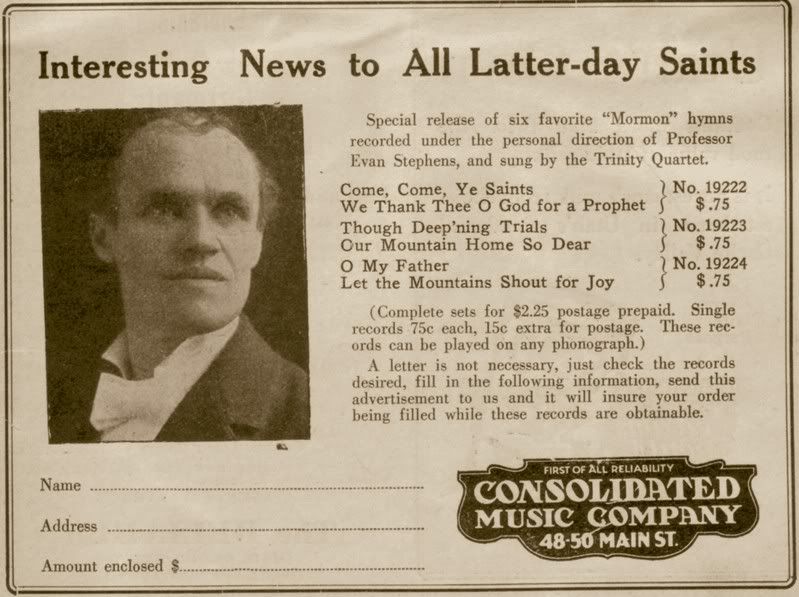 Continue reading at the original source →